Down to
earth
Eventually, my family has to return to earth, but the park still has plenty of fun to be had once we get our land legs back. Arcades located at each track are filled with more than 250 games total, including all the hits. From driving and sporting games to video games and—my niece Anna's personal favorite—skee ball! I get just as excited as she does when the machine spits out those little tickets and we start dreaming about the prizes we'll get when we redeem them.
Track 5 has an exciting Laser Tag maze with laser beams that are actually visible, making it easier to hit my target (aka: my siblings). And the child-size vests provide a great way for the little ones in the family to feel included. I'm not a naturally competitive person, but there's something about donning that vest in the backlit maze and feeling the weight of a laser gun in my hands that brings out my inner warrior. Later, sis.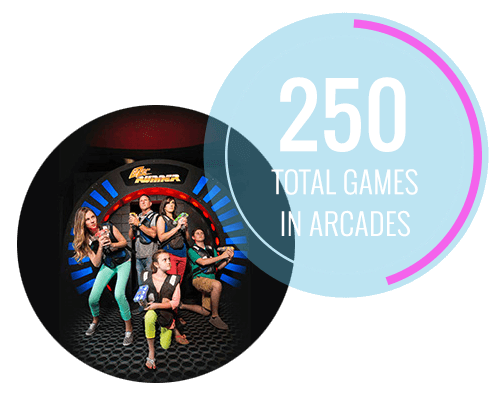 Also at Track 5 are four batting cages that throw various speeds of both baseballs and softballs, perfect for any level athlete. I played softball when I was younger and I was never really any good. But I step into those batting cages and suddenly, I'm a major leaguer. In reality, I choose the slowest speed possible, but in my mind, I'm the female version of Babe Ruth, pointing to the stands and calling my shot.
No day at a park is complete without bumper cars. Traditional bumper cars are over at Track 4, but what my family and I look for are the SuperSoaker Bumper Boats at all the parks. These are not your mama's bumper cars. The entire gang, from grandparents to kindergartners, all hop into the colorful boats and take up the accompanying water cannons for another one of our family's traditional warm-weather pastimes—water fights. Let battle at sea commence! There's no better way to cool down after a long, hot day on the tracks.
Buy a Go-Card for The Track Family Fun Parks and get your thrills on rides for half the price.